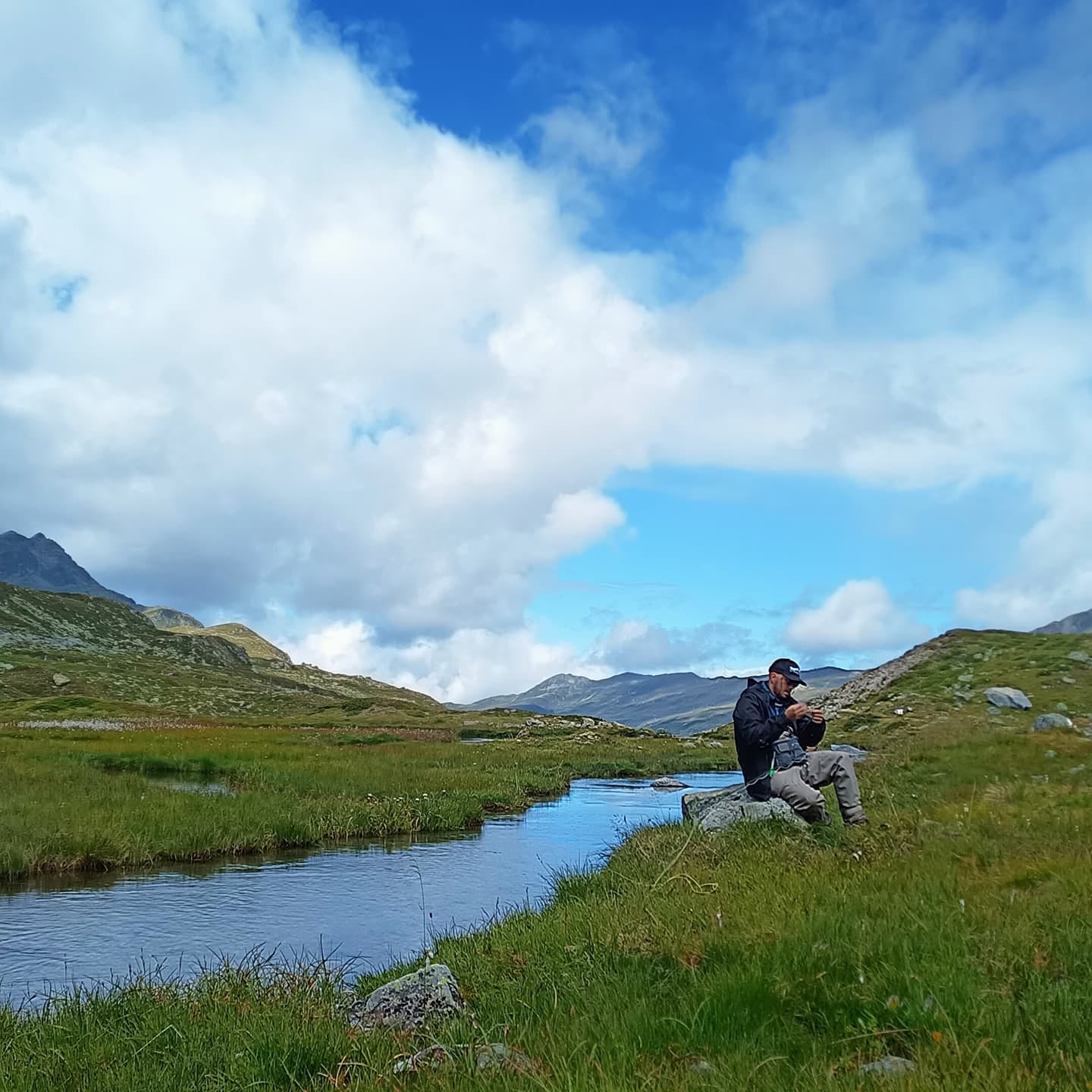 Learn fly fishing in two days!
In this course, I will explain and show you how to cast with a fly rod, what to pay attention to, and why technique is crucial. You will learn what a fly line is, how fly fishing relates to Bob Ross, and what flies you can use to trick your first trout.The course equipment is included in the price and consists exclusively of hand-built FLYTASTIC rods! Food and refreshments are also provided.


2 Modules of 5 hours each
Module 1: Casting training and theory on the meadow
Module 2: Practical fishing at a small lakeCourse location and date to be agreed upon. Prices depend on the location and range from:


1 person: 350 - 450 CHF
2 people: 250 - 300 CHF per person
3 people: 220 - 270 CHF per person
4 people: 200 - 250 CHF per person

Season: Spring to Fall"
You may have seen them before, those strange fly fishermen on the meadow. Completely without water nearby, they wave their rods around. But rest assured, the good ladies and gentlemen are fine. They are honing their casting technique. If you're wondering why they do this on the meadow and not by a beautiful mountain stream, read on...
Fly fishing is like driving a car. You probably didn't drive on the highway for your first few rounds either. Learning the correct and clean technique is a must. On the meadow, you will learn the necessary movements so that your fly line and, of course, your fly will end up in the right place. At the same time, you must pay attention to many small details. In a car, this would be: press the clutch, shift gears, release the clutch and don't forget to give it gas... do you remember?
I will be your personal driving instructor. I will watch you, show you the cast, give you tips and tricks and correct you when necessary. Together we will work on the foundation for your future as a fly fisherman. On the meadow, you can focus fully on the processes and don't have to worry about the traffic. You will soon enough get to know the beloved trees, plants, stones, bushes, branches and fellow fishermen.
On the second day of the course, we will go to the water. I will show you the habitat of the fish, what they eat and what we can use to catch the finned creatures. We will review what we have learned and go more in depth on the tackle. Your FLYTASTIC course equipment consists of


Your FLYTASTIC course equipment consists of handmade rods, equipped with the appropriate reel and line. You will learn what a leader is and how to tie a fly. After some instruction, we'll get started! The first casts will be made on the water. With a bit of luck, the first trout will soon be wriggling on your rod.
By the way, FLYTASTIC workshops are flexible in terms of scheduling. So after you get in touch with us, we can decide together on the best location and time for you!
Day 1
Meet at the course location
Brief introduction of the participants
Expectations for the course
Putting together the rods
Explanation of the tackle
Safety training
Demonstration and instruction of the overhead cast
Casting, casting, casting
Individual coaching, corrections
FLYTASTIC lunch
Casting, casting, casting
Short feedback round
End the day with a beer or cider
Return trip
Day 2:
Meet at the course water
Introduction to entomology
Fly patterns and their presentation
Refresh-casts on the meadow
Instruction: Behavior on the water
Instruction: Handling the fish
Putting together the rods
Explanation of the tackle
First casts
Fishing, fishing, fishing
FLYTASTIC lunch
Individual coaching
Demonstration: Trick casts
Individual fishing
Feedback round
End the day with a beer or cider
Course consisting of 2 modules
FLYTASTIC course device
tips and tricks
water and insect knowledge
short casting demonstration for trick throws
FLYTASTIC lunch by the water
10 flies per participant
leader and tippet material
photos and impressions
flexible scheduling
flexible choice of location
Der Preis für einen unvergesslichen, individuellen und lehrreichen Workshop variiert je nach Austragungsort zwischen 350 CHF - 450 CHF falls du alleine kommst.
Wenn du einen Kollegen oder eine Kollegin mitbringst, schrumpfen die Kurskosten und der Kurs kostet nur noch 250 - 300 Franken pro Person. Die Gewässerlizenz ist nicht in diesem Preis inkludiert und kostet zwischen 25 und 30 CHF.

Die Versicherung ist Sache der Teilnehmer.

Ich helfe dir gerne weiter falls du mehr Infos brauchst.